National Advertising Conference 2022.
Join us at the largest gathering of stakeholders in the advertising industry this year.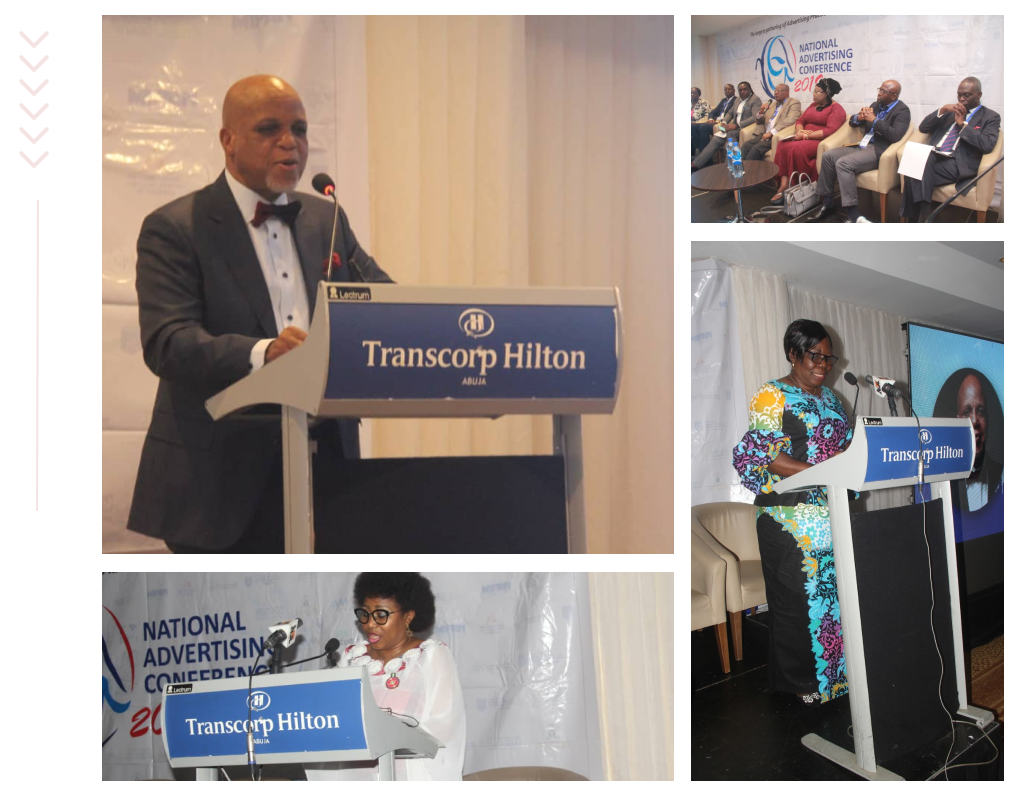 Theme:
The Marketing Communications Industry in Nigeria
New Trends, Challenges & Prospects
Venue
Transcorp Hilton, F.C.T Abuja
For further information call:
Discounted Hotels for NAC participants
All rates are per Night
---
Hawthorn Suites by Wyndham
N35,000 with Breakfast
N30,000 without Breakfast
Sandralia Hotel
N30,000 with Breakfast
N27,000 without Breakfast
John Wood by Bolton
N75,000 Superior
N95,000 Delux
N110,000 Executive
Transcorp Hilton
N150,000 King Hilton Guest Room
---
For hotel reservation call Winifred on 081 2012 1244
Keynote Speakers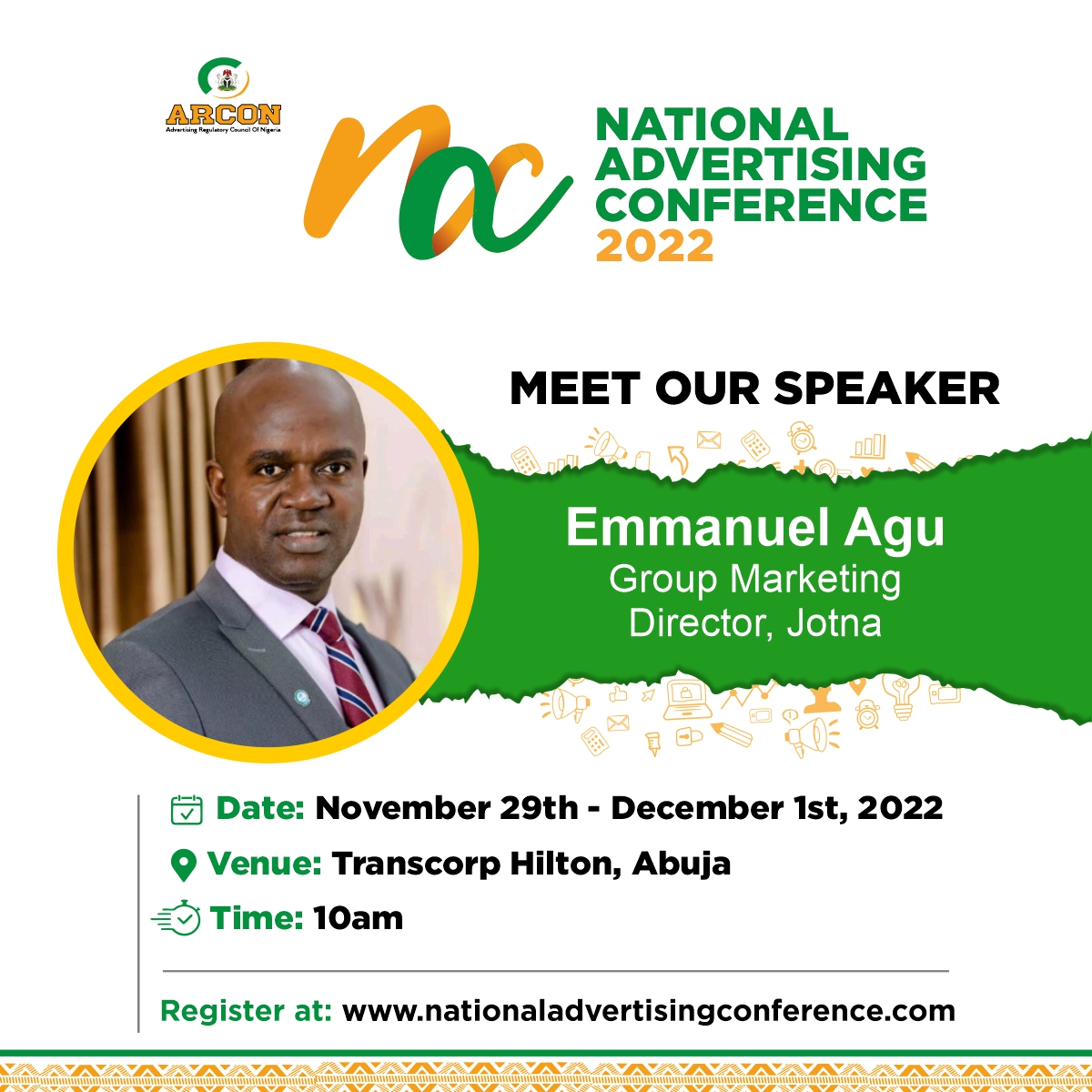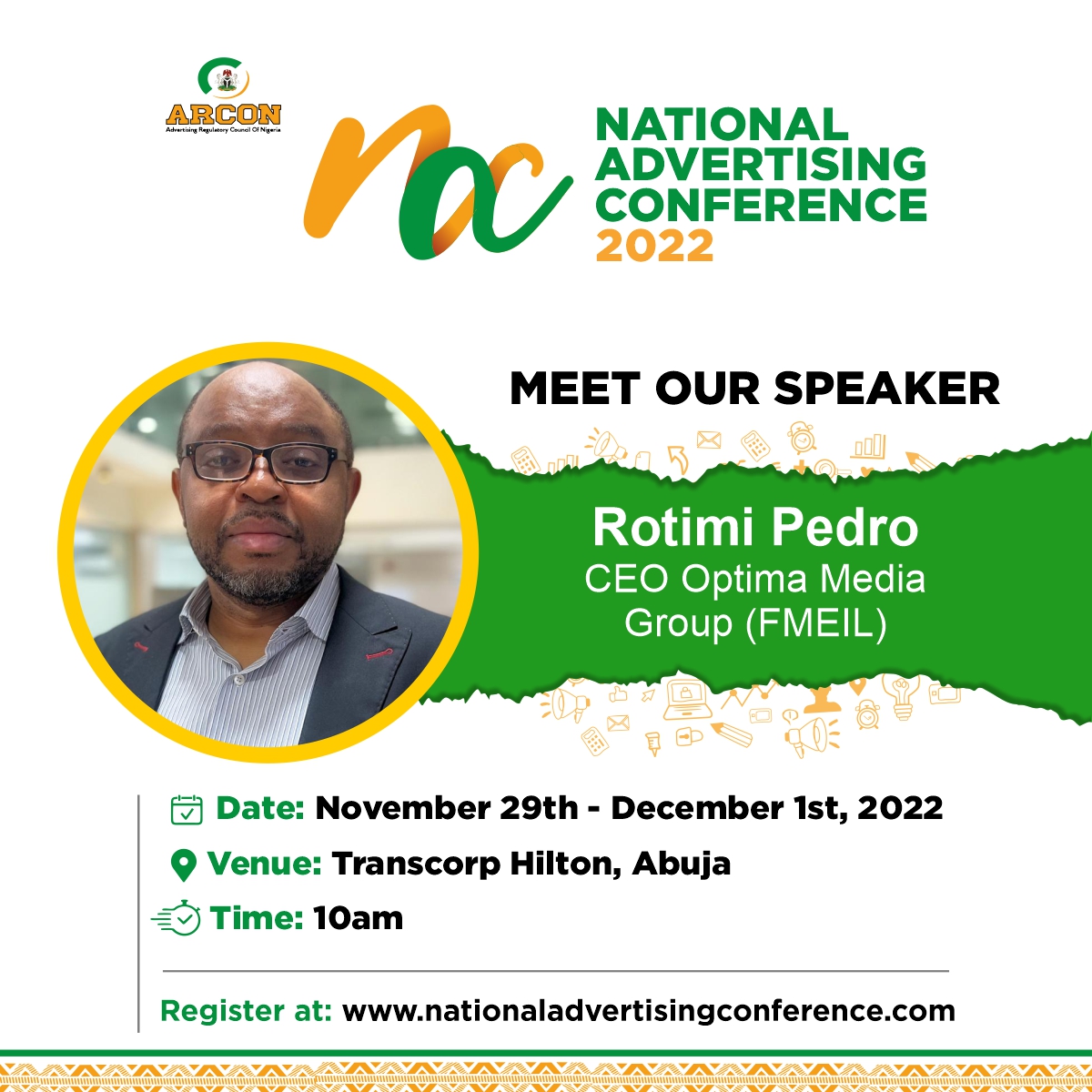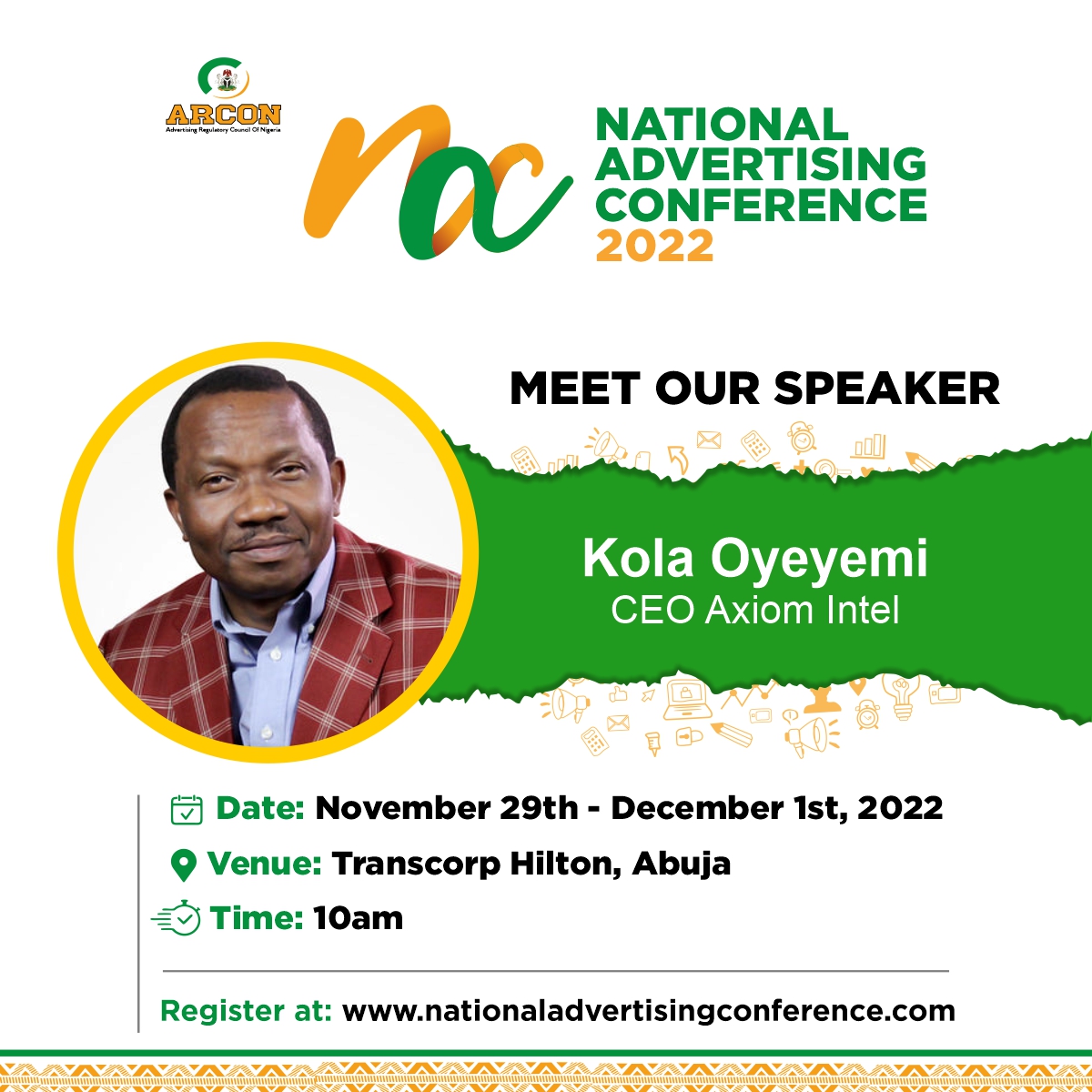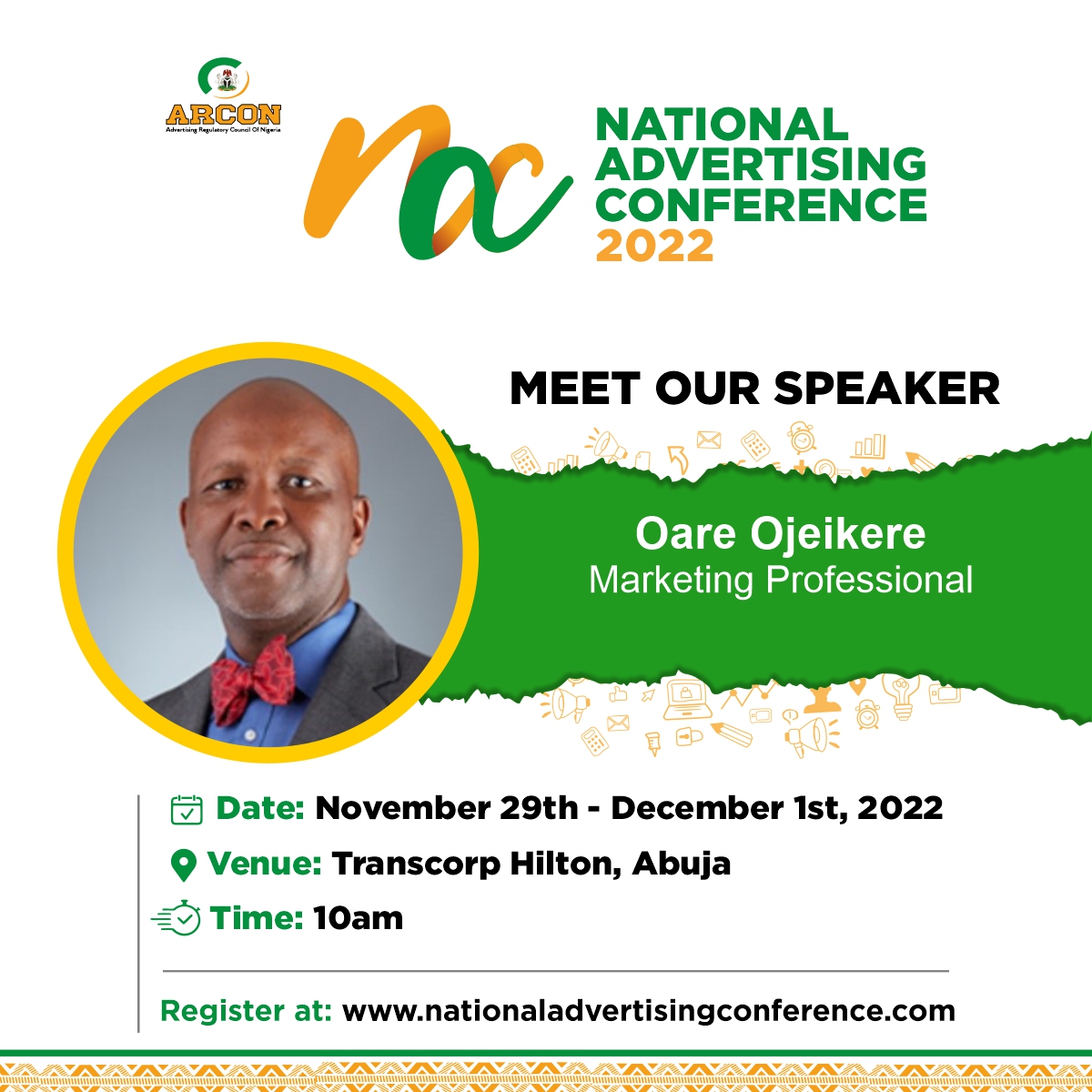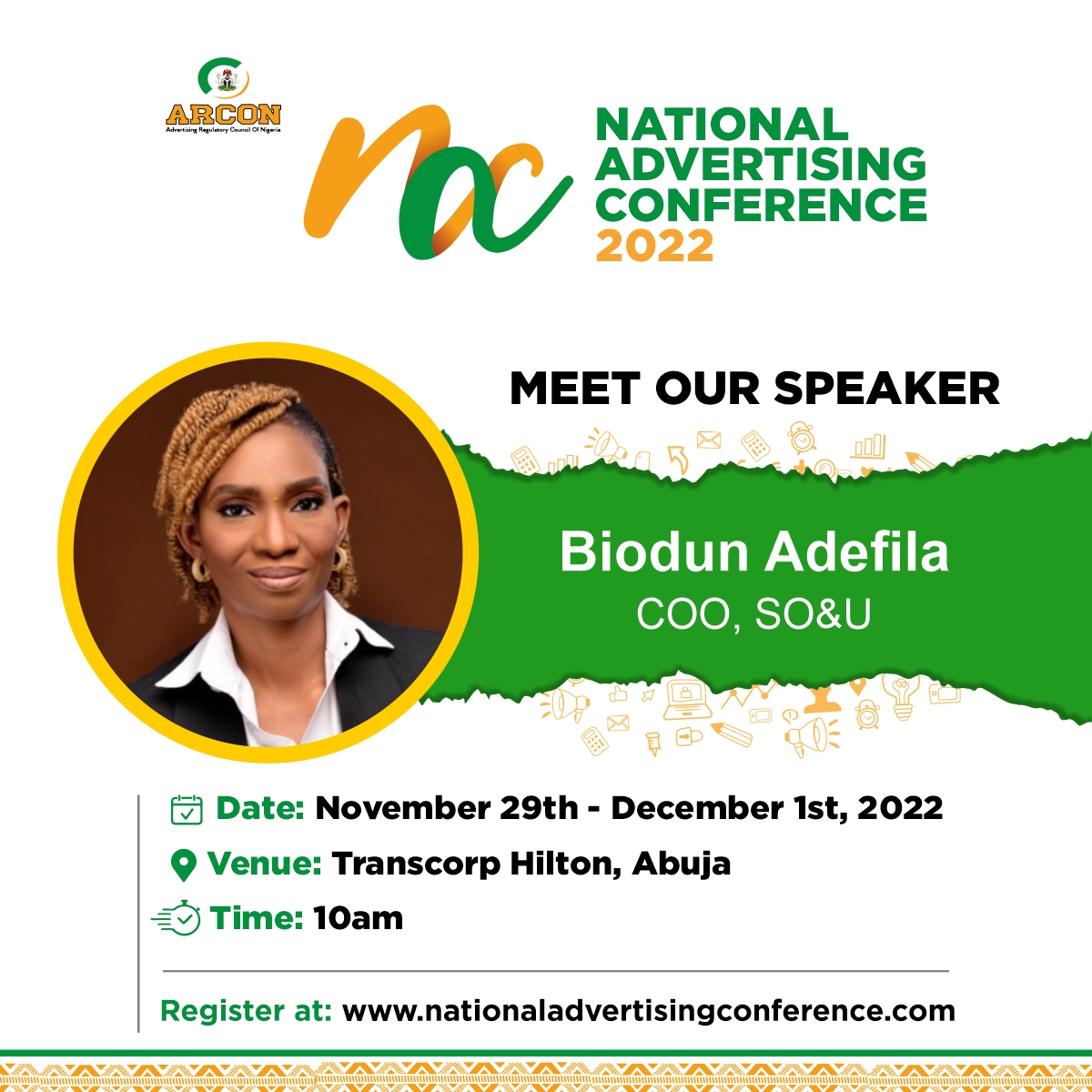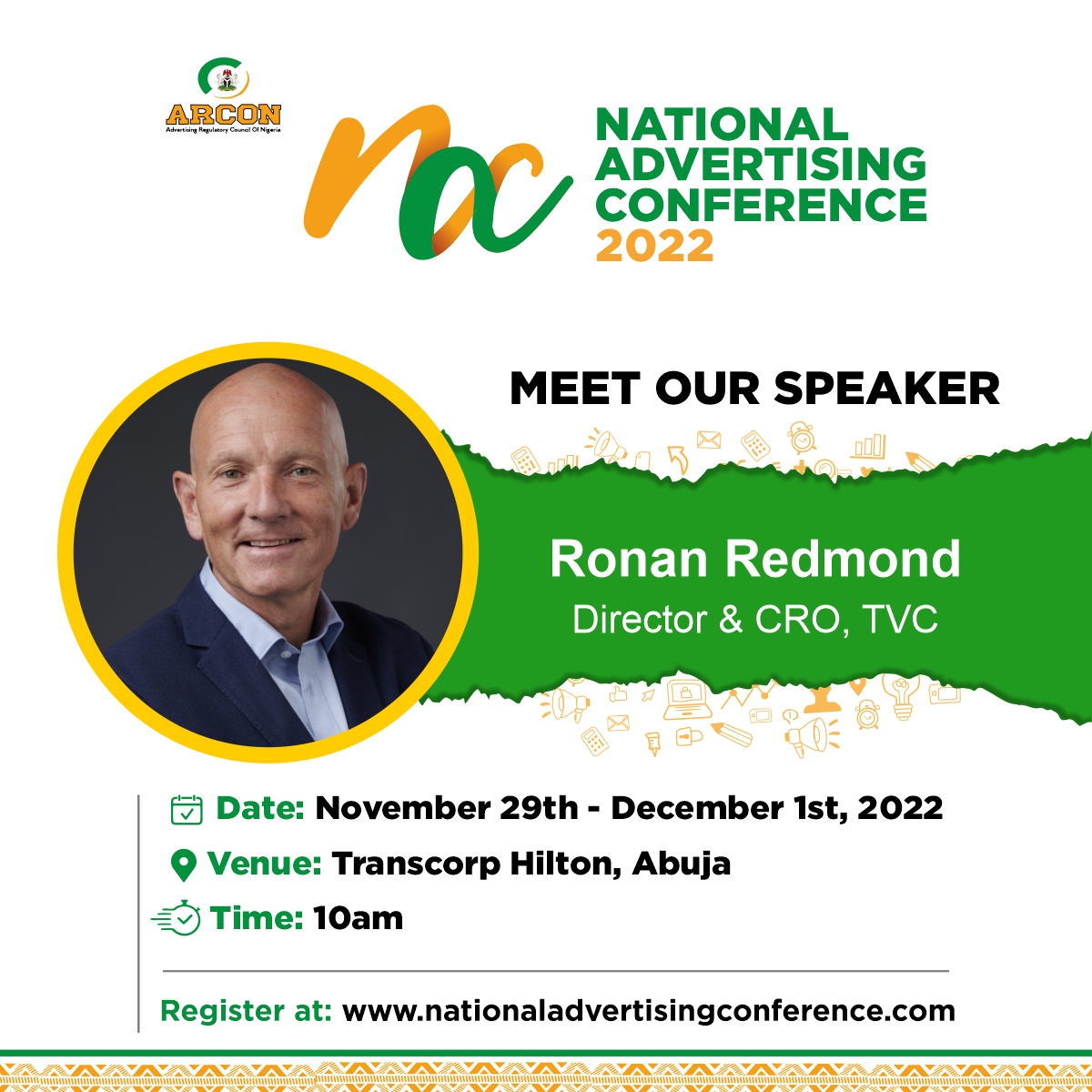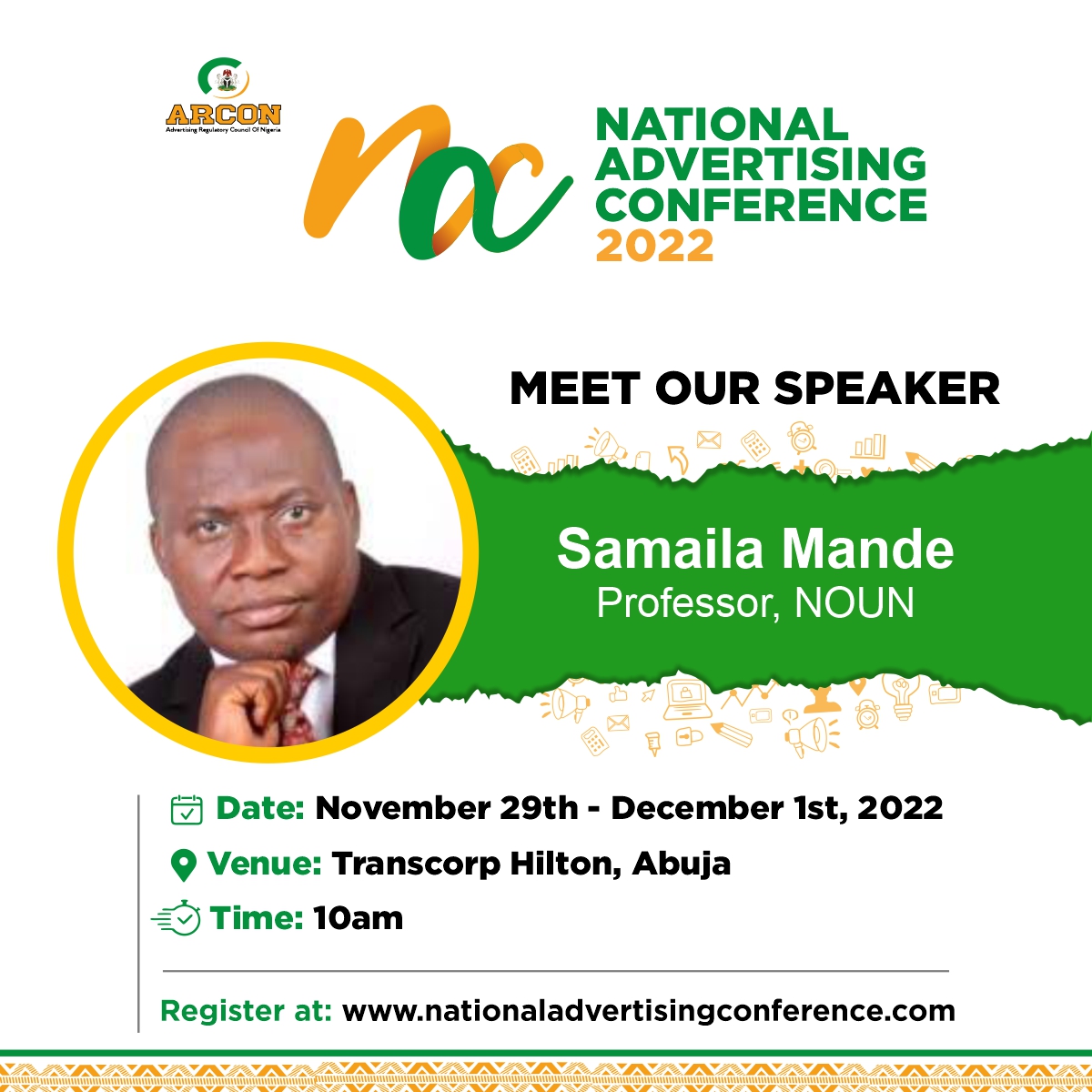 Agenda
Day 1
November 29th, 2022
| | |
| --- | --- |
| 3:00 PM | Arrival. Check in. Registration |
| 6:00 PM | Fireside Chat with an Icon - Professor Chris Ogbechie |
Day 2
November 30th, 2022
| | |
| --- | --- |
| 8:00-9:00 AM | Registration |
| 9:30-10:00 AM | Opening Ceremony |
| 10:00-10:30 AM | State of the Economy |
| 10:30-11:10 AM | Panel Discussion |
| 11:20-11:50 AM | The Advertising Industry - Total Size, Data, etc ( Ronan Redmond, Director and CRO, TVC) |
| 11:50-12:30 AM | Panel Discussion- the Advertising Industry- growing the pie. ( Kelechi Nwosu, Victor Afolabi) |
| 12:40-1:10 PM | Stronger Brands, Stronger Nation - A Brand Report, Mr. Oare Ojeikere |
| 1:10-1:50 PM | Panel Discussion |
| 2:00-3:30 PM | Lunch |
| 3:30-4:00 PM | The State of Regulation in the Advertising Industry - The ARCON Law Explained |
| 4:00-4:40 PM | Panel Discussion |
Day 3
December 1st, 2022
Break out stage 1
9.30-10.15 AM
Understanding the New Consumer-From Genz to Alpha, Adia Sowho, CMO MTN
10.25-11.00 AM
Building Nigeria's new television audience measurement system- Mr Rotimi Pedro, FMEIL
11.10-11.55 AM
From buying board space to buying mind space- new trends in OOH, Emmanuel Agu, Group Marketing Director, Jotna
12.05- 12.50 PM
The Current State of Data Protection and Privacy in Nigeria - NITDA
Break out stage 2
9.30-10.15 AM
Improving diversity and inclusion in the Marcoms industry- closing the gap, Mrs Biodun Adefila, COO, SO&U
10.25-11.00 AM
Creating Brand Experience in a Digital World- the future of Experiential Marketing, Mr. Kola Oyeyemi, CEO Axiom Intel
11.10-11.55 AM
Regulating Digital Advertising - Lessons from other markets - Ose Osundeko, Digitas
12.05-12.50 PM
New Trends in Academic Research, Professor Samaila Mande, NOUN
Break out stage 3
9.30-10.15 AM
Academic Presentation
10.25-11.00 AM
Academic Presentation
11.10-11.55 AM
Academic Presentation
12.05-12.50 PM
Academic Presentation
| | |
| --- | --- |
| 1.00-2.00 PM | Lunch |
| 2.00-4.00 PM | Townhall Meeting with DG Arcon |
| 7.00-9.00 PM | Gala Night and Close |
Register now
About The National Advertising Conference.
There is no doubt that the Advertising profession in Nigeria has come of age. Since the conferment of the status of a profession on Advertising by Act number 55 of 1988, it has grown in leaps and bounds during the last thirty-four years. A clear evidence of that growth is the establishment, consolidation and active operations of various advertising sectoral associations, beginning with AAAN and followed subsequently by OAAN, BON, NPAN, MIPAN, ADVAN and EXMAN, all of which are now statutorily represented on the governing Council of Advertising Regulatory Council of Nigeria – ARCON. Many other sectoral groups have evolved with strong interfacing associations.
These include EMCOAN, AVOA, ITPAN, etc.
Through the self-regulatory efforts of these sectoral associations and the statutory-regulatory interventions of ARCON, Advertising has earned a recognition and reputation as a leading profession in Nigeria. In line with the practice among other reputable professions, the professional conference for Advertising practitioners, appropriately named the National Advertising Conference was initiated and debuted in 2019.
In continuation of that tradition, the 2022 National Advertising Conference has been unveiled. With the theme: 'Marketing Communications Industry in Nigeria: Trends, Challenges and Prospects' the conference is scheduled to hold on November 29 through December 1, 2022, at the Transcorp Hilton Hotel, Abuja.
Marketing Communications professionals and scholars from the various sectors and specializations of the marketing communications industry will converge to share ideas, knowledge and perspectives on the new trends and challenges that shape the profession and business of marketing communications across the world. They will also proffer solutions and point the way to a healthy growth of the industry to the benefit of all stakeholders.
Highlights of the conference are Keynote and panel discussions on the state of the Nigeria and global economy; size and prospects of the Nigeria marketing communications industry; advertising industry regulation and the new ARCON Law; understanding the new consumer-from Gen Z to Alpha; diversity and inclusion … closing the gender gap in the markcom industry and new trends in media planning and buying.
There is also included in the conference package masterclasses on New trends and funding in academic research; entrenching the culture of creativity in marketing communications; branding opportunities in the Nigeria movie industry; responsible and impactful political advertising and destination marketing.
The conference will be rounded off with a destination tour of Abuja and a grand gala night.
Dignitaries from government, public and private sector organisations, practitioners and clients from across Nigeria and parts of the world are expected to grace the conference as speakers, special guests and participants.
Because of the huge and diverse offerings of the conference, it promises to be the largest gathering of marketing communications and allied professionals in Africa.